Kikka Flowers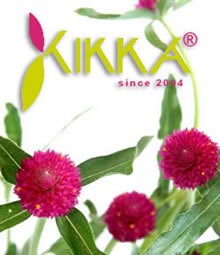 Our floral style contradicts formal
and traditional rules.
We love experimenting and playing!
We combine flowers and colours that are said to be forbidden and always get amazing results and feedback!
We have a strong passion for proteas and the mixed textures of the fynbos varieties of South Africa.
Kikka's floral ideas are boundlessly creative, and our expertise invaluable: expect to be bowled over! At very good value for money, you cannot afford not to have Kikka as your floral team.

217 Main Road
+27 (0)21 872 0685
+27 (0)21 872 1843
kikka@telkomsa.net
www.kikka.co.za
Daneel's Florist
Jan Phillips Square
021 872 5532
Die Gieter
125 Main Street
021 863 4128
Flora Mia Florist
Paarl and Wellington Area
021 872 2247
Flowers & More
14a Vineyard Centre, Main Street
021 863 1931
Mint & Magnolia Flowers
227 Main Street
021 872 5542
Pink Geranium
6 Jan Phillips Mountain Drive, Southern Paarl
021 863 0419